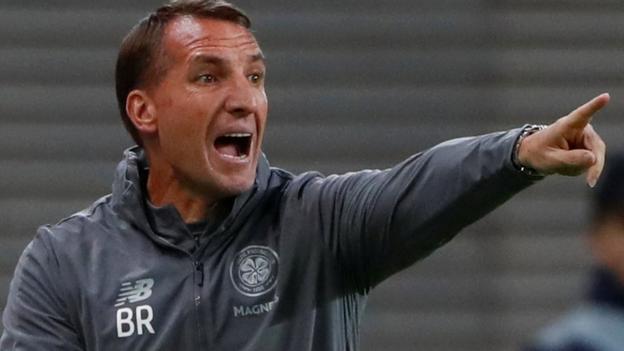 Four wins and just five clean sheets in 19 away games – Brendan Rodgers' European record as Celtic manager does not make for good reading.
The Scottish champions lost on their continental travels again on Thursday, haphazard defending costing them as RB Leipzig won 2-0 in the Europa League.
That has been a familiar flaw for Celtic under Rodgers, but what do the statistics say? And what do the pundits think?
Travel with trepidation
In the three seasons Rodgers has been in charge, he has led Celtic in two Champions League group campaigns, and the Europa League this season.
As well as losing an eye-watering number of goals in those 19 away games, his side have won just four times, with the 3-0 win in Anderlecht last year the sole occasion they triumphed in a group stage.
Under Rodgers, Celtic have not won a European game on the road when they have conceded. Mind you, that record stretches back before his tenure – only one clean sheet has been kept in the club's past 27 away European ties excluding qualifiers.
Bruised in Barcelona & pounded in Paris
The defeat in Leipzig did little to change Celtic's averages over the past three seasons. A total of 38 goals have been shipped outside Glasgow at a rate of two per game.
This season has been slightly better at 1.3 goals per game, but that is in the notionally weaker Europa League.
The Champions League has proved much more bruising. In Rodgers' first group game in the competition in September 2016, his team were taken apart 7-0 by Barcelona in the Nou Camp – the club's heaviest ever European defeat.
The following season, Paris St-Germain also put seven past them after Moussa Dembele gave Celtic an early lead. Bayern Munich and Zenit St Petersburg have also scored three against Rodgers' side.
And then there was the abject defeat in Athens that ended their Champions League hopes this term. The reason? Conceding poor goals.
'They're losing to lesser opposition now' – analysis
BBC Scotland's chief sportswriter Tom English
Under Rodgers in the group stages, Celtic have won two from 15. When you're playing against Barcelona or PSG or Bayern Munich, that's fair enough. But now they're losing to lesser opposition and that's got to be worrying. There are too many weaknesses in European competition where the standard is higher and Celtic have to figure out what they want to be.
Former Celtic goalkeeper Pat Bonner on Sportsound
Coming to a Bundesliga ground and trying to get a result is never easy, so I will hold my judgement until I see them at home [against RB Leipzig and Salzburg]. They really have to compete at Europa level. Europe is part of their make-up, their DNA, their history and going into a Europa group stage I would expect them to compete. Are they better than last year? I'm not so sure.