Related Video and Audio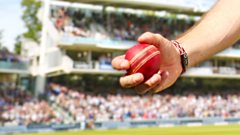 RTL
Got a TV Licence?
You need one to watch live TV on any channel or device, and BBC programmes on iPlayer. It's the law.
Summary
Ball-by-ball BBC radio commentary on all nine games
Jacks and Foakes both out early for Surrey
Somerset's Craig Overton takes two wickets – Lancs 24-4
Worcs slip to 78-7 against Hants, still trail by more than 100
Notts resume on 332-7 against Yorkshire
Get involved #bbccricket
Live Reporting
By Gary Smee
All times stated are UK
Send a text to

81111 (charged at your standard message rate)

Twitter:

Use the hashtag

#bbccricket

Facebook:

BBC Sport
Post update

Notts 404-7 v Yorkshire

That's five batting bonus points for Nottinghamshire.

Matt Milnes is taking the attack to Yorkshire with a flurry of boundaries to take his side past 400.

The game is slipping away from the Tykes after they reeled Notts back in last night.

Get Involved

Tweet us using #bbccricket

Methers: Is it me or do Hants have the best fast bowling attack in the county game?

I was just saying something similar to a colleague. The three wickets they've taken this morning were absolute jaffas from Dale Steyn and Fidel Edwards.

Post update

Somerset 192 v Lancashire 99 & 38-4

There's nothing wrong with the pitch at Taunton! It's a batsman's paradise!

Lancashire captain Liam Livingstone punches Craig Overton through mid-off for four to get off the mark. Shot of the day.

Post update

Essex v Surrey 284-6

Rex FeaturesCopyright: Rex Features

Surrey are running out of time to claim three batting bonus points.

They've got four overs left to score the 16 needed to get to 300.

Every point could be crucial at the end of the season.

Update from Canterbury

Division Two latest

WICKET

Bailey c Azhar b C Overton 14 (Somerset 192 v Lancs 99 & 24-4)

Rex FeaturesCopyright: Rex Features

Another one goes at Taunton!

Tom Bailey is too early on a full ball from Craig Overton and spoons it to a diving Azhar Ali at mid-on.

Lancashire are 24-4 and still 69 away from making Somerset bat again.

Trott out for 79

Division Two latest

Warwickshire have added 35 to their overnight total against Durham after Jonathan Trott hit successive boundaries, but he was bowled for 79 by Matt Salisbury, meaning the Bears are 224-7.
Sussex are 347-9 after resuming this morning on 323-8 against Leicestershire.
The second day between Kent and Northants has been delayed due to rain, with a pitch inspection just taking place. Northants are 71-8 in reply to Kent's 137.
Gloucestershire have added 16 to their overnight total and are 224-7 against Middlesex.
Glamorgan have added ten runs to their overnight total but have also lost their first wicket against Derbyshire, with Connor Brown dismissed. They're 34-1 in reply to Derbyshire's 251.

WICKET

Barnard c Alsop b Steyn 0 (Worcs 78-7 v Hants 191)

Two wickets in three balls for Dale Steyn!

It's a stunning catch from wicketkeeper Tom Alsop. The Hampshire paceman finds the edge of Ed Barnard and Alsop takes a low diving grab with his right hand.

Worcestershire still trail by 113.

WICKET

Foakes b Porter 30 (Essex v Surrey 279-6)

Rex FeaturesCopyright: Rex Features

Surrey lose their second wicket of the morning…

Jamie Porter gets one through Ben Foakes and splays his stumps.

Can Essex keep the Division One leaders to below 300?

WICKET

D'Oliveira c Weatherley b Steyn (Worcs 78-6 v Hants 191)

And now Dale Steyn strikes at New Road…

It's another lovely outswinger which Brett D'Oliveira can only snick to Joe Weatherley at third slip.

Worcestershire are in all sorts of strife now.

Post update

Notts 360-7 v Yorkshire

Thirty minutes into day two at Trent Bridge and still no breakthrough for Yorkshire.

Samit Patel, who came in a couple of places lower than usual at seven, is up to 25.

They've got eight and a bit overs to get to 400 and maximum batting bonus points.

WICKET

Cox c Alsop b Edwards 6 (Worcs 76-5 v Hants 191)

Worcestershire are five down…

It's an absolute beauty from Fidel Edwards.

The West Indian bowls the perfect outswinger which glances the edge of Ben Cox's bat and through to the keeper.

'Pitch is verging on poor'

Somerset 192 v Lancashire 99 & 20-3

Lancashire's cricket director Paul Allott wasn't particularly complimentary about Somerset's pitch after the first day.

"To be honest, the pitch is below average and verging on poor in my view," he told BBC Radio Lancashire.

"It looks like a fifth-day Test match pitch – it's warm, it's pitted, and there are some areas in that are obviously hugely conducive for spin bowling.

"It's disappointing to come all the way down to Taunton and be confronted with those conditions in such an important game."

You can hear more about what the former England seamer had to say below…

Get Involved

Tweet us using #bbccricket

George D Wright: I'm not sure wickets at Chelmsford is good news for Somerset. Two first innings scores of 500+ at 2 runs an over would be fine.

Yeah, fair point George. A draw would be okay for Somerset's title chances.

Post update

Worcs 74-4 v Hampshire 191

It's a steady opening few overs for Worcestershire pair Ben Cox and Brett D'Oliveira.

A first-innings lead will be like gold dust for either of these relegation-threatened sides.

The Pears stll trail by 118 at New Road.

Post update

Essex v Surrey 271-5

Rikki Clarke is on a mission for Surrey, striking his first three balls to the boundary.

Decent man to have coming in at seven is Rikki!

Post update

Somerset 192 v Lancashire 99 & 12-3

Steven Croft is in at five for Lancashire.

The visitors need a monumental innings from their former skipper.

WICKET

Brown lbw b C Overton 1 (Somerset 192 & Lancashire 99 & 11-3)

Rex FeaturesCopyright: Rex Features

And now a wicket at Taunton…

Craig Overton spears one in at the pads of Karl Brown, out.

This could be over before lunch.

WICKET

Jacks c Lawrence b Siddle 16 (Essex v Surrey 257-5)

Rex FeaturesCopyright: Rex Features

Peter Siddle strikes in his first over!

The Aussie quick finds the edge of Will Jacks and Dan Lawrence gobbles up the chance at first slip.

Good news for Somerset as well as Essex.

Post update

Notts 334-7 v Yorkshire

Yorkshire fought back superbly in the evening session yesterday taking four wickets with the new ball.

Notts all-rounder Samit Patel is at the crease with Matt Milnes. Can they get to 400?