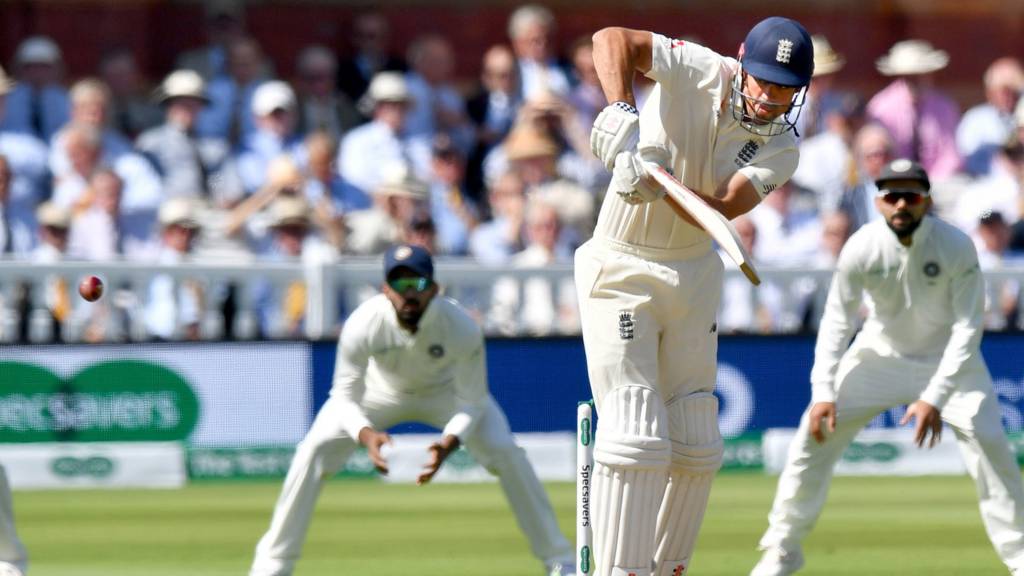 England v India – Day 3BBC Radio 5 live sports extraLive
Second Test, day three, Lord's; Scorecard; TMS overseas
Got a TV Licence?
You need one to watch live TV on any channel or device, and BBC programmes on iPlayer. It's the law.
Summary
Jennings 11 – lbw to Shami
Cook 21 – caught behind off Ishant
England reply to India's 107
India bowled out on second day
Play scheduled to finish at 18:30 BST
England lead 1-0 in five-Test series
Live Reporting
By Matthew Henry
All times stated are UK
WICKET

Cook c Karthik b Ishant 21 (Eng 32-2)

Graeme Swann

Ex-England spinner on BBC Test Match Special

Cooky should have said 'just go'. He might have said that he was wide of the crease and it's up to you. Whose decision it was to review was never talked about when I played.

England's captain Joe Root is now out in the middle. There's a bit of a "Rooot" but nothing like what we hear at other grounds. They're too sensible for that at Lord's.

Amy Lofthouse

BBC Sport at Lord's

You know it's a bad review when sections of the crowd are openly laughing at it…

Graeme Swann

Ex-England spinner on BBC Test Match Special

Cooky marched down and said to review. He was doing that to be a mate, rather than for the team.

WICKET

Jennings lbw Shami 11 (Eng 28-1)

It was plumb indeed. A complete waste of a review and what feels like a missed opportunity for Keaton Jennings. He has just missed a full, straight delivery from Mohammed Shami. It was almost a half-volley.

Jennings has seen the first replay and is already making his way off. The ball tracking hasn't even been shown yet.

Graeme Swann

Ex-England spinner on BBC Test Match Special

This stone dead. This is ridiculous. What a stupid waste, it's absolutely plumb.

This looks out. Very out.

Keaton Jennings is given out lbw.

Alastair Cook, the non-striker, seems to be the one pushing for this review.

Ooooo. That's Cook first false shot of the morning. He lunges at a wide one from Ishant and fails to make contact. Cook turns away immediately in disgust at the shot he just played.

Meanwhile Spider Cam is hovering ominously above the square. Someone is going to whack a shot at it some time soon. I'm not sure Alastair Cook will be that man.

My word. Who is this imposter? A second drive from Alastair Cook and this one goes for down to the pavilion for four! Lord's hums in approval.

Fire away, people. I'm struggling I must admit.

Not much to report from Shami's latest over so I'll give you the most Alastair Cook shot you'll ever see.

Video content

Video caption: Cook clips off his legs for four

Sipech: Could you get a team of clerical cricketers? Ollie Pope, Ian Bishop, Cliffe Deacon. Any more?

Vic Marks

Ex-England spinner on BBC Test Match Special

It's a gentle start, Cook has got to 13 and looked comfortable. I don't think it is going to spin but they are bound to put Ashwin on soon.

Bhanuprakash: This is gonna be a long day for the Indian players…!!

Eng 20-0

Cook 13, Jennings 7

Ishant Sharma has those bandage things over both elbows, like what Ben Stokes often wears. The Indian has his shirt sleeve scrunched up on his right shoulder and already looks a little disheveled. He gets a couple to go away in this over but they're too wide to trouble Cook. Back to normality for England's farming opener. A maiden.

Vic Marks

Ex-England spinner on BBC Test Match Special

Shami has got the ball full several times and they have been able to drive it because it hasn't swung.

I'm going to restrain from googling 'England's highest partnerships since Andrew Strauss retired' because every time I have in the past a wicket seems to fall. This has been solid though. Cook's strike-rate is 162.50.

Duanne Olivier is as close as I can get.

Cook is flying. A crunch of a punch through the covers for three now.