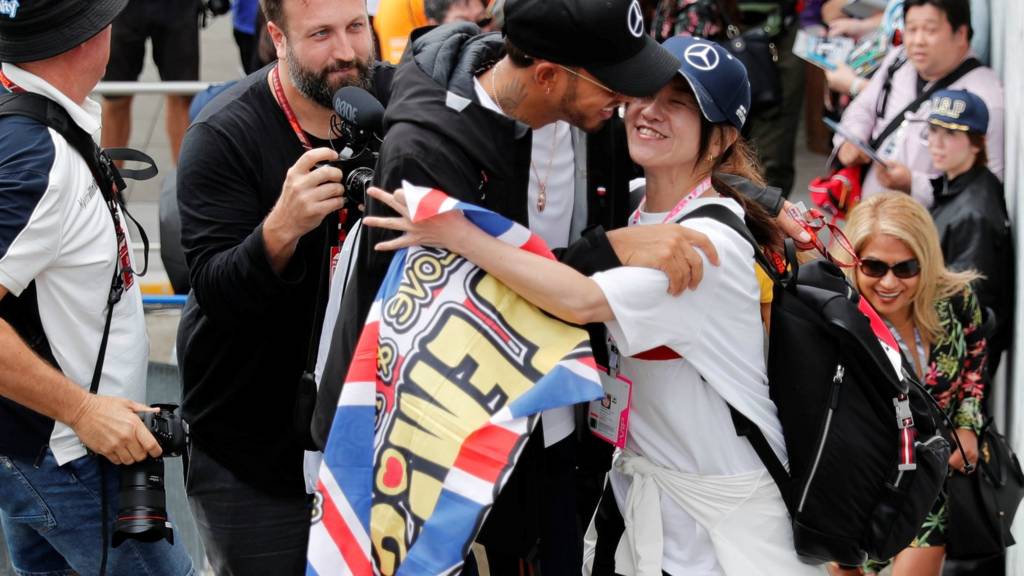 Related Video and Audio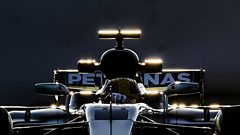 Coming up
Play audio Japanese Grand Prix – Qualifying from BBC Radio 5 live
Got a TV Licence?
You need one to watch live TV on any channel or device, and BBC programmes on iPlayer. It's the law.
Summary
Final practice under way – rain falling
Qualifying at 07:00 BST
Get involved #bbcf1: Can Vettel pull out special moments?
Live Reporting
By Niamh Lewis
All times stated are UK
Amit Mandalia: Might be a bit controversial and I only see it from outside but do you think McLaren's issues are potentially down to poor management after ousting Ron Dennis? Honda may be coming good now & yet a Renault powered McLaren still near the back of the grid.

Jennie Gow

BBC Radio 5 live pit-lane reporter

Yesterday's drivers briefing apparently got a little bit heated between Lewis Hamilton and Sebastian Vettel as they were debating the whys and wherefores of Vettel's block in Russia.

Getty ImagesCopyright: Getty Images

45 minutes to go, and we're all back inside.

Alrighty, so everyone has set laps, but now they're returning to the pits. Because "the rain is horizontal" according to Jack Nicholls.

Hamilton's engineer: "I'll let you take a read on the conditions but I can't see on the back of the circuit."

All 20 have set times. But the wind is causing some problems.

Raikkonen and Vettel still leading so far, with Hamilton bringing up the rear five seconds behind.

Jennie Gow

BBC Radio 5 live pit-lane reporter

The headwind is strong enough for me to look and think about holding onto something. It is very windy.

Getty ImagesCopyright: Getty Images

But we may have some weather issues today… which could make qualifying interesting!

Nearly everyone has set a lap now. Just Hamilton, Perez and Ocon to get out of the garage.

Kimi Raikkonen and Sebastian Vettel are at the top, with almost identical times: 1:30.054, and 1:30.161.

Kimi Raikkonen: "Raining already at the
back of the circuit."

Jolyon Palmer

Former Renault driver on BBC Radio 5 live

It is going to be extremely tough for the drivers. There is a bit of rain in the air but the wind, with all these corners and different directions, will really play havoc with the balance of the car. We could be in for some thrills and spills.

Getty ImagesCopyright: Getty Images

Jennie Gow

BBC Radio 5 live pit-lane reporter

Just spoken to McLaren and they deny any allegation that they missed the tyre deadline for this weekend. They say they chose their tyres as normal and it is not the first time this season that people have made 'interesting' choices with regards to tyres.

Simple fact of the matter is that McLaren would be a team hugely helped by wet running today. They only selected 4 sets of SS tyres per driver. VAN did 16 laps on the SS yesterday so has 3 left for all of today. ALO has done no running on SS so has 4 sets for today.

Less than ideal situation for McLaren

Andrew Benson

BBC Sport's chief F1 writer at Suzuka

EPACopyright: EPA

There has been a bit of intrigue this weekend as to
why McLaren have such an odd tyre selection here in Japan. They have only four
sets of super-soft tyres, the fastest, which is two fewer than anyone else.

There has been a report that McLaren simply did not get their tyre choices in
before the deadline, but the team adamantly deny this and say it was their
decision. Why it was their decision remains an open question, as it leaves them
with not enough tyres.

That's because drivers need two sets of super-softs for
each qualifying session they are in, and four is only enough the first and
second sessions – which means no set-up work in advance, unless they compromise
qualifying. Which is hardly ideal.

Final practice is on. But we only have Raikkonen, Sainz and Stroll out on track so far.

BBC Radio 5 live sports extra

We are live on BBC Radio 5 live sports extra with Jack Nicholls, Jolyon Palmer and Jennie Gow, and it can be heard at the top of the page.

Andrew Benson

BBC Sport's chief F1 writer at Suzuka

It rained overnight as the
edge of typhoon Kong Rey hit the mainland. The rain had stopped before 10am.
But the atmosphere remains heavy and threatening.

It's windy, warm – 26C – and
so very humid, and a fine mist of moisture has developed in the air of late.

This is what typhoon season feels like, and the day ahead is uncertain. Rain or
shine, though, it's hard to look past Lewis Hamilton for this weekend.

He's
always brilliant in the wet and in the dry on Friday, he was imperious. Is he
going to dominate the weekend, or did Ferrari, as Mercedes F1 boss Toto Wolff
suspected, have their engines turned down?

…which will be underway in just over 10 minutes at 04:00 BST.

You can listen to our usual commentary team of Jack Nicholls, Jolyon Palmer and Jennie Gow at 03:55 BST, at the top of this page.