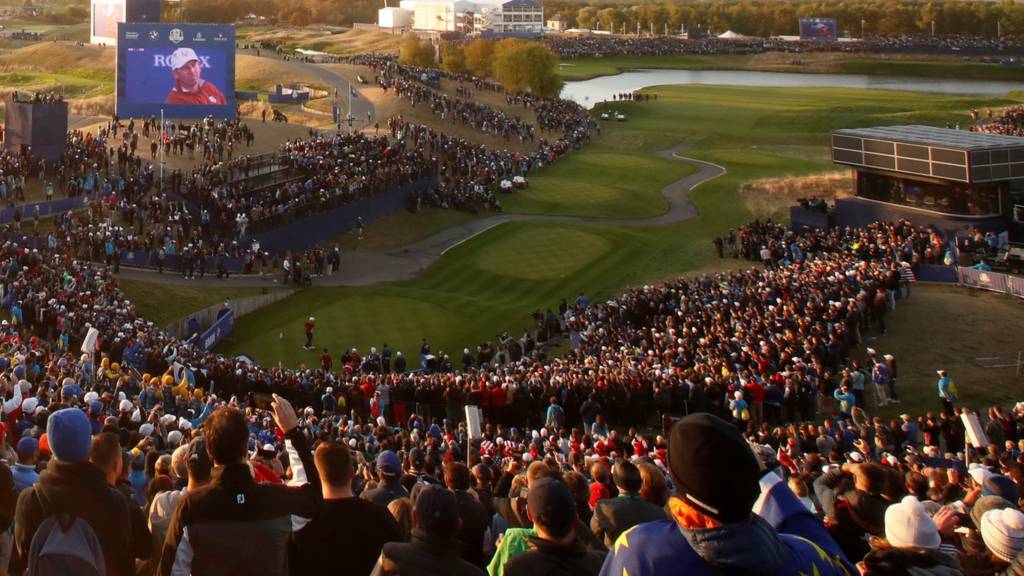 Related Video and Audio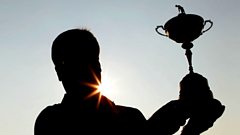 Coming up
Play audio Day Two from BBC Radio 5 live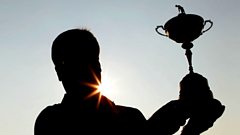 Coming up
Play audio Day Two from BBC Radio 5 live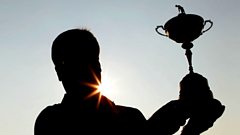 Coming up
Play audio Day Two from BBC Radio 5 live
RTL
Got a TV Licence?
You need one to watch live TV on any channel or device, and BBC programmes on iPlayer. It's the law.
Summary
Score: Europe 5-3 US
07:10 BST: McIlroy & Garcia v Koepka & Finau
07:25 BST: Casey & Hatton v Johnson & Fowler
07:40 BST: Molinari & Fleetwood v Woods & Reed
07:55 BST: Poulter & Rahm v Thomas & Spieth
Get involved using #bbcRyderCup
Live Reporting
By Alistair Magowan and Mike Henson
All times stated are UK
Send a text to

81111 (charged at your standard message rate)

Twitter:

Use the hashtag

#bbcRyderCup

Facebook:

BBC Sport
Class is permanent

McIlroy & Garcia A/S Koepka & Finau

A reminder of where Sergio Garcia stands in the historical European pecking order.

Sir Nick Faldo's 25-point record well in sight.

Sergio hits it right at the flag

McIlroy & Garcia A/S Koepka & Finau

Rory McIlroy is first to take on the first green and finds it, although Brooks Koepka goes closer. His ball is about 20 feet away from the flag with Tony Finau close by.

What can Sergio muster? Straight at the pin, maybe 10 feet away, but it spins back a bit. Nice work lad. Those nervous about his inclusion may yet eat their words…..

Second match up at 07:25 BST

Casey & Hatton v Johnson & Fowler (07:25 BST)

Paul Casey and Tyrrell Hatton get another go to make their mark in the fourballs despite their narrow loss to Jordan Spieth and Justin Thomas on Friday.

Dustin Johnson and Rickie Fowler team up after their convincing 4&2 win over Rory McIlroy and Thorbjorn Olesen.

Should be tasty.

'I think our guys will respond'

So how will the US respond from yesterday afternoon's mauling? US Ryder Cup captain Jim Furyk told the Cut BBC Golf Podcast:

"Here's the great thing about matchplay, in medal play you
can shoot 68 and 78 and be down ten shots and try and make that up over a few days. In matchplay
you can take a 10, the other guy
makes a three and you can make that up next hole.

"We do have to shore things up. And I'm guessing we'll prob
switch things up in the afternoon tomorrow. Does it pose a problem? I think our guys will respond, I really do, I have a lot of
confidence in this team."

Fancy a little more reaction to day one of the Ryder Cup? Just have a listen to the full Podcast here.

Alex Bysouth

BBC Sport at Le Golf National

ReutersCopyright: Reuters

It's crisp, to say the least.

Spectators are trying to wriggle into sun spots that are starting to sneak through. But the length of the first is packed 10 deep in some places, and those in the shade are packed together like penguins. Loud, "Rory" chanting penguins.

McIlroy flirts with water off first

McIlroy & Garcia A/S Koepka & Finau

Two massive cardboard cutouts of roaring Rory and screaming Sergio behind them, Tony Finau is the first to tee off. He almost stuck it in the water yesterday but he's fine this time. Brooks Koepka takes an iron too and his position is boss too.

Sergio and Rory are on the fairway, but McIlroy's effort was flirting with the water a touch.

Conor McNamara on BBC Radio 5 live is describing the European jumper colour as "Rust". You can listen to more of his pearls at the top of the page.

'Don't count your chickens'

Conor McNamara

BBC Radio 5 live commentator

ReutersCopyright: Reuters

There's almost a celebratory mood among the European fans down at the first tee but they don't want to count their chickens to early. There is a long way to go.

The Americans are all wrapped up with woolly hats on, the Europeans are in much tighter attire and look ready to go.

Friday's honourable mention

GettyCopyright: Getty

Francesco Molinari had not won a point in previous Ryder Cup appearances, failing to win a match in the victories at Celtic Manor and Medinah.

That record was drastically improved yesterday as the Open champion, partnered with Tommy Fleetwood, saw off Tiger Wood and Patrick Reed in the morning, and Jordan Spieth and Justin Thomas in the afternoon.

Nice work.

Get involved

#bbcrydercup or 81111 on text

GettyCopyright: Getty

The European team have pulled some burnt orange warm-up top out of the kit bag this morning.

The 'terracotta army' one wag next to me has christened their look.

We are after your favourite Ryder Cup outfits from down the years.

I'll start. What about those weird team portrait shirts the United States sported at Brookline in 1999?

Here come the players

McIlroy & Garcia v Koepka & Finau (07:10 BST)

Burnt orange is the colour for Europe today as Rory McIlroy and Sergio Garcia make their way to the first tee as "Ole, ole, ole," rings around the first tee. Tony Finau has a woolly hat on as he makes his way through the chilly masses.

Thomas Bjorn and Jim Furyk exchange a friendly handshake and all of a sudden the bleary eyes are widening as everyone gets ready for another golfing epic.

Buckle up folks.

You know that moment when you go to a major gig and you see people running to get to the pen at the front the moment the gates open…..?

Well at the Ryder Cup that's raised up a notch to get to the first tee.

Getty ImagesCopyright: Getty Images

There was a logic to Jim Furyk pairing Bryson DeChambeau and Phil Mickelson together yesterday.

Fellow Californians, a wise old head and a headstrong young gun, the experience and the exuberance.

It didn't work that way.

They were four over par at the turn in the afternoon foursomes and, although they staged a mini mid-round resurgence, they were well beaten, 5&4, by Sergio Garcia and Alex Noren.

PACopyright: PA

The best Fleetwood since Mac?

Tommy Fleetwood looked like a grizzled veteran rather than a fresh-faced Ryder Cup rookie on the course yesterday.

Teamed up with Open champion Francesco Molinari, the 27-year-old vanquished Tiger Woods and Patrick Reed in the morning foursomes and then did for golden boys Jordan Spieth and Justin Thomas 5&4.

And, most importantly, his hair looked magnificent.

Tom Fordyce

BBC Chief sports writer at Le Golf National

A happy expectation around the first tee rather than the Boxing Day sales fervour of Friday morning, another clear blue sky with just a few wisps of cloud to light up under the first rays of the sun.

And a chorus of 'La Marseillaise' from the locals to warm any chilly cockles.

First match up at 07:10 BST

McIlroy & Garcia v Koepka & Finau (07:10 BST)

So the first fourballs match this morning sees Rory McIlroy team up with Sergio Garcia to take on Brooks Koepka and Tony Finau, who beat Justin Rose and Jon Rahm on the last hole in Friday's fourballs.

Brooks was carrying Tony at times in that round, but who can forget that lucky bounce on 16 for Finau. What do they say about fortune…..?

Big hits and beats

First match tees off at 07:10 BST

Alex Bysouth

BBC Sport at Le Golf National

BBC SportCopyright: BBC Sport

An early morning hit for a few of the Americans. DJ, Rickie Fowler and Brooks Koepka were all up at the range dusting off any last-minute nerves.

They've got some chilled beats playing in the background, not sure who's responsible for the playlist?! And no idea what it was…

Plenty of fans have held off cramming into the grandstand to get a glimpse of the golfing stars, and pick up some tips, perhaps.

First on the range…

First match tees off at 07:10 BST

First man on the range for Europe this morning….well Sergio Garcia is out first.

So who's up this morning?

First match tees off at 07:10 BST

After their success in Friday's fourballs, it's little wonder that US captain Jim Furyk has opted for the same line-up on Saturday. After losing that session 3-1, Thomas Bjorn has mixed it up a little, bringing Ian Poulter and Sergio Garcia into the action and resting Justin Rose.

But he's stuck with the best partnership so far – Tommy Fleetwood and Francesco Molinari who were two wins from two on Friday.

BBC SportCopyright: BBC Sport

Turning red to blue

First match tees off at 07:10 BST

All that fun and japes led to Europe turning a 3-1 deficit from the morning session……

BBC SportCopyright: BBC Sport

Into a 5-3 lead after the first day, with some amazing scores on that European card.

BBC SportCopyright: BBC Sport

Magic moments to last a lifetime

First match tees off at 07:10 BST

Video content

Video caption: Ryder Cup 2018: Poulter birdies 13 after 'astonishing' McIlroy recovery

There were so many magic moments. From Tony Finau's lucky bounce off the railway sleepers on 16 through to the mercurial shot that Rory McIlroy dug out from a downslope into the water on 13 to set up Ian Poulter's birdie. That was described by our very own golf correspondent Iain Carter as "one of the best golf shots he'd ever seen."

Tommy Fleetwood also got to write his own chapter in Ryder Cup history with that amazing putt on 16 as he made two points on his debut, ably backed by Francesco Molinari.