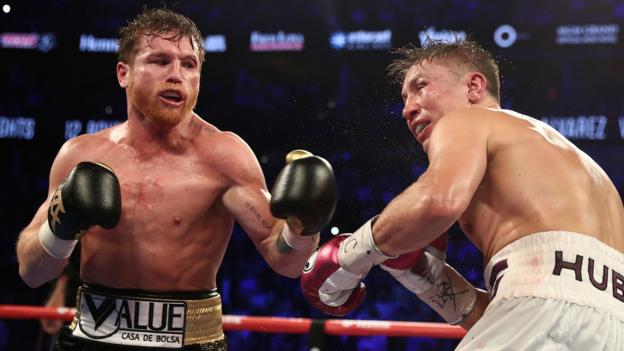 It took the 12th and final round to split Saul 'Canelo' Alvarez and Gennady Golovkin in Las Vegas on Saturday.
They have shared 72 minutes across two bouts and the only thing more fierce than the punches which have failed to floor either man is the debate over how ringside judges chose to finally give Alvarez an edge in this riveting rivalry.
Here, BBC Sport boxing correspondent Mike Costello explains why the weekend's contest will have a lasting legacy, while analyst Steve Bunce believes Golovkin's camp may just have had enough of Sin City.
'Firmly and forever in your brain'
Mexican Alvarez, 28, switched his defensive style from their drawn initial meeting 364 days earlier, and ended 36-year-old Golovkin's eight-year reign as a middleweight world champion, claiming the WBA and WBC belts in a fight as intense as it was classy.
Mike Costello: I was 10 or 12 feet away from the action and whatever you do in the world of sport you will never be as close to sport that is so special. That was a memorable night.
At heavyweight, we wouldn't get the class punching in addition to the movement or variation. If we went down in weight you wouldn't have the bone-crunching power. As it's the middleweight division we saw the fluency of the lighter weights and the power of the bigger weights in a perfect mix.
Steve Bunce: It is one of those fights that will live in the imaginations and minds of anybody that was there. Not every great fight has the same enduring, lasting feel. I have a feeling that was the type of fight that finds a place firmly and forever in your boxing brain.
'Freaks of nature' stay standing
Uppercuts, solid hooks, rapid counter-punching, jabs by Golovkin, body shots by his rival, yet, as in September of 2017, no knockdowns. Both men sustained cuts at the T-Mobile Arena, but Alvarez continually marched forward.
Costello: There were so many high-quality aspects to admire from both men, not least the quality of the punching and this almost ridiculous level of punch resistance. Time and again they took heavy shots and not only did they not back off, they stood their ground and almost immediately fired back.
Bunce: These two guys, how on earth is it that in 24 rounds they have managed to catch one another with all kinds of shots and neither of them have wobbled?
They may have shuddered but have not wobbled or lost control of their legs.
They've not done the boogie. We've seen Floyd Mayweather do a crazy dance when he was stunned by Shane Mosley, we've seen Oscar De La Hoya and Lennox Lewis judder across the ring, we've seen the greatest in history tremble.
These two seem to tee one another up with punches that have stretched men out and yet they seem immune to one another's venomous power. It has to be two freaks of nature, joined together in a perfect storm of resistance.
The scoring questioned (again)
Alvarez was considered fortunate by many to escape with a draw last year. This win, the biggest of his career, came down to the final three minutes as he sealed a 114-114 115-113 115-113 triumph. US trainer and broadcaster Teddy Atlas said the scoring was "a robbery" against Golovkin.
Costello: There will be debate, discussion and dispute about the scorecards for years to come.
I had it 7-5 in rounds to Golovkin. The difference for me compared to the judges was in the first six rounds where I had him 4-2 up but all three judges had Canelo leading 4-2.
In a trawl through social media, Carl Frampton thought 'Triple-G' had won and WBO welterweight champion Terence Crawford also did.
Leaving the arena, Roy Jones Jr explained to me that Canelo had fought the fight some didn't think he could. He said the Mexican had fought up close "in a phone booth" and that surprise strategy perhaps impressed the judges enough for them to favour him.
The last round was so key with two of the judges giving it to Canelo whereas the consensus ringside was that Golovkin had a good last round. So had those two judges given it to Golovkin then all three judges would have scored it a draw again.
Bunce: I thought Golovkin won that last round and we would have had a pure draw which is so, so rare.
I had Canelo leading 4-2 at halfway and when it was over I had it 6-6 – a draw for me. I was working alongside David Haye and Richie Woodhall. At the end, David had Canelo, while Richie was the other way. That is how split we were.
Was 'impressive' Canelo win a bad thing?
Alvarez's victory arrived seven months after he failed two doping tests, testing positive for steroid clenbuterol. The two-weight world champion blamed infected meat in his homeland and was handed a six-month ban by authorities. BBC Radio 5 live's ringside pundit Demetrius Andrade – who challenges Billy Joe Saunders for the WBO world middleweight title in October – said the fact Alvarez was allowed to participate was "unfair".
Costello: There are those like Roy Jones Jr who said he did the crime and served the time allotted to him.
Ultimately, it is down to the authorities to really take some firm action. They missed an opportunity. I believe if they genuinely believed Canelo was guilty they missed the chance to ban him for a long time and that would have sent a message around the sport.
You can blame Canelo but you cannot blame him for the punishment as he served the six-month ban.
Here, he was so good. I've said in his career he has fought in patches but he was much more consistent. I didn't think he could fight for 36 minutes like that but his consistency was very impressive.
Rematch? 'No way in Vegas'
After two bouts laced with intrigue – the latter of which delivered from an action perspective – talk quickly turned to another rematch, with both fighters stating they would be happy to do it again.
Costello: And so to a trilogy, we are long overdue one. Golovkin said on stage it would be great to have a third fight but Canelo will have many an option now in the middleweight division. What about 5 May – Cinco de Mayo – another Mexican celebration weekend?
Bunce: If I'm Golovkin's people I'm saying 'no way am I going back to Las Vegas' unless of course the amount of money is the necessary balm to make the indignation and the outrage just feel a little bit better.